This is something I know to be true.
A woman's heart is in in her Apple iTunes. 
For a depiction of her recent moods and emotions, consult her recently played. To understand the person she truly is, past the flesh and down to the bony core, examine her top 25 played of all time. For if you've ever allowed someone to browse through your iTunes music with their casual sliding finger on screen and furrowed brow as you anxiously watch their every expression, you will know this: showing someone – anyone – your music is a very intimate act. You are giving away a part of yourself and exposing it to silent judgement. You are removing your Zorro mask and stepping into the dazzling light, and who knows how your daughter is going to react when she finds out you're her father. She could hate you bitterly, she could love you devotedly. She could not understand who the hell you're meant to be.
I feel it is only right to tell you that when you share your music with another you will never be able to walk away from it unscathed. You will not be the same again, ever.
I remember one – potentially two occasions where I let someone look at my music. It is not something I do freely, because it feels like my music. Although I am not the artist who put mouth to microphone or fingers to key, nor did I play the chords in order to churn them into a beautiful song, when I listen to music alone in a darkening room with shadows playing on the walls, or staring out the window on a packed miserable tube, and I am completely engrossed and honed into every syllable that chokes out of their rough throat, it feels like it is mine. It is a conversation between me and them that I don't have to answer, I can just sit and watch, sit and wander. In many ways, these songs are my home. If they could morph into a physical inanimate thing, it would be my bed – a place where I can strip off my clothes and sink into the sheets time and time again on awful or blissful days. A place where I am unapologetically my own.
I like music to take me somewhere where I can wander. These wanderings can be about nothing particular or niche obsessions, I don't mind which. But if a piece of music makes me fuck off for a while where time passes me by or traps me still, if it can seize some part of my mind and make my heart swell to the point where I have to squeeze something, it has done its job.
I will reveal to you a few of the songs that do this to me, as featured on my Apple iTunes playlist 'SGH All Time Favourites (I want to die to these songs)'. Why? Because why not. It's healthy to reveal some heart every now and then. On a seperate site note, some of these songs will also feature on my Funeral playlist when I inevitably pop my clogs. (My funeral is going to be so lit, I wish I was going.)
God – John Lennon 
This song is the one of the saddest. I first heard it watching the film Mr. Nice starring Rhys Ifans. It reminds me of black birds taking flight, for some reason. It is bitterly sorrowful and heavy, whilst at the end the song teeters on hope when John Lennon sings 'I just believe in me'. John's mind must've been a wonderful and terrible place to be. This song is one of my number one's because it has made me cry, smile and feel all sorts. I love it.
There She Goes – the La's
I just can't get over this song. I fell for it when I was about ten years old watching Lindsay Lohan arrive in my home city of London, leaning out of a black cab as she waved to a living statue (and it waved back to her). Over a decade later, I fall for it nearly every single time I listen to it still. This song is lifelong for me, and that's all I can explain about it really.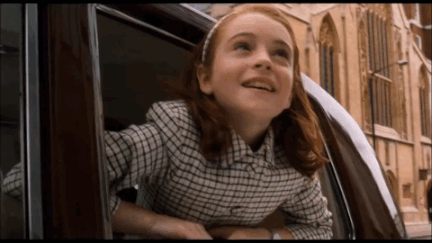 Friday I'm in Love – the Cure
An ardently loved classic for many people, myself included. With its hoppy, almost childish electronic melody Friday I'm in love takes you to dreamy heights. When you have this song in the back of your mind, you can do anything in the world and nothing can stop you. How one song can make you feel so overwhelmingly brave and high on life, I don't know, but this is the Cure we're talking about. The Cure are pure magic.
Another Sunny Day – Belle and Sebastian 
This song is by one of my favourite bands who I finally saw live in Nottingham earlier this year. When this song plays, I imagine a three o'clock sunshine, picnic blankets, tinnies and quorn cocktail sausages. It is late spring and everything is pretty in bloom. The song carries with it the same sense of haziness that you get after lounging about all day in spring-time, too. It's all 'let's smoke a blunt and take polaroid pictures', and I'm always about those vibes.
Drive-in Saturday – David Bowie
I wrote my university dissertation about David Bowie, so David holds a place in me no one can quite replace. I love so many of his songs so much, but this one tops them all, and honestly I couldn't tell you why. When it comes to David Bowie I can't tell you much, and I have a funny feeling being a fucking bizarre mystery was his intention all along.
Only You – Yazoo 
The first dance song at my sister's wedding that grips me with years and years of emotion piled one on top of each other. This song has it all – sometimes I think it's the lyrics, other times the jazzy drum beats or electronica, but I can't put my finger on it. This song also makes me think of my best friend, Elizabeth Strain, and the hours we spent chucking a ball to each other in my caravan and ordering 463648 pizzas when she lived in Stoke Newington. I miss her terribly.
Have You Ever Seen the Rain – Creedence Clearwater Revival 
There's something about the croaky and sharp American voice of Creedence lead singer John Fogarty that speaks deeply to me. I remember listening to this song on repeat on a 45 minute train on a weekday commute, and it made the journey infinitely better. Since that day my love for it has only climbed higher. I also seriously enjoy rain at night, when it comes down in sheets and you can see it in the street lights.
Goodbye Yellow Brick Road – Elton John
Gary Oldman once appeared in a documentary about Elton John and said 'I just find his voice heartbreaking', and now it's the only way I can fully describe old Elton. He is the red-specs boy who holds the nation's heart (as David Bowie still holds mine) in his hands and this song of his has a piece of mine. Psst: I once named this song correctly in the music round of a pub quiz in New Cross, South London, and was the only person in the joint to get right. I guess that's why they call it the bluez bitches.
Africa – Toto
An orgasm hidden within an octave. I think you understand what I'm saying here so I won't go on. Also special shout-out to my girl, Emma Beynon.
Live Forever – Oasis 
This song makes me feel like I can live forever. And I don't even know whose garden they're talking about, but I don't really want to know if their garden grows either. Oasis have an incredible talent of coercing you to believe what they believe with fiery northern passion and I believe it all, whole-heartedly.
–
This has been a revealing of some of my favourite songs. Now I think you need to discover more of yours, so sail off into the sunset with a pair of Sony speakers and all of that hoo-ha. Just remember – upon sharing your music with others, whoever it is, you won't be the same again. That person will take a part of you that you can't get back, so be careful who you give it to. And yes, you will know more of her heart after scrolling through her library, more of what makes her tick, the notes that make her cry, but alas, that doesn't mean you're any closer to getting it, soz. x
© Sophie Grace Hollis 2019. All rights reserved.